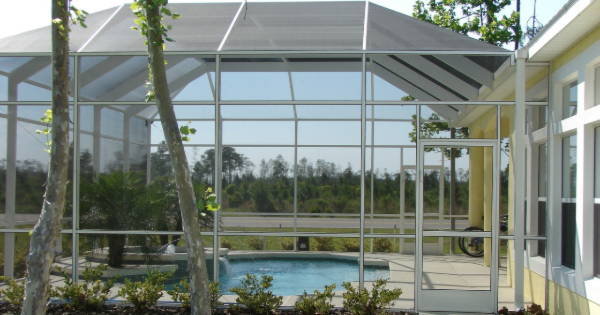 It's nice to enjoy fresh air and being outside with our families. Summer is a great time for swimming, reading on the porch swing, or cooking out on your deck. However, summer also comes with some potentially dangerous or irritating natural elements that you might need help keeping out. Extensive UV rays, mosquitoes, and summer storms are all problems that could arise during your outdoor festivities.
You don't have to worry about those things when you have the help of a sturdy screen mesh material surrounding your outdoor spaces. You can even make your home more private with privacy window screen mesh. There are plenty of ways that patio screens, pool screens, and privacy screens can benefit your family.
Keep Out Mosquitoes
Mosquitoes are no one's best friend. They leave you irritating and itchy red bumps all over your skin. They buzz around your ears all night and make it hard to relax. They even transmit diseases in numerous ways. For example, parasites can attach themselves to the gut of female mosquitoes when they feed which can lead to malaria. Keeping out these annoying bugs isn't just a matter of convenience, it's a matter of safety. With a reliable patio screen, you can still cook out on your patio without worrying about anything getting in. Super Screen® offers options that provide maximum visibility so that you can be protected without losing your outdoor view.
Protect Against UV Rays
UV rays can be dangerous to you, your family, and your home. Prolonged exposure to sunlight, especially without sunblock, can lead to skin cancer in people and can cause fading discoloration to objects in your home. With the help of a pool cage screen or privacy window screen mesh, you can help block out some of those harmful rays. The more precautions you take the more likely it is that your skin will remain healthy or that the objects and spaces in your home won't be faded over time.
Privacy in Your Home
With the help of privacy window screen mesh, you can create more privacy in your home. It makes it more difficult to see into your home from the outside so that you can feel more at ease without all of your curtains drawn. Everyone likes to feel safe and secure at home, and this is just one more way of being able to do that.
Installing the right screens in your home can protect you and your family against a variety of problems. With Super Screen®, you can trust that you are adequately protected and that your screen is durable enough to last for a long time.