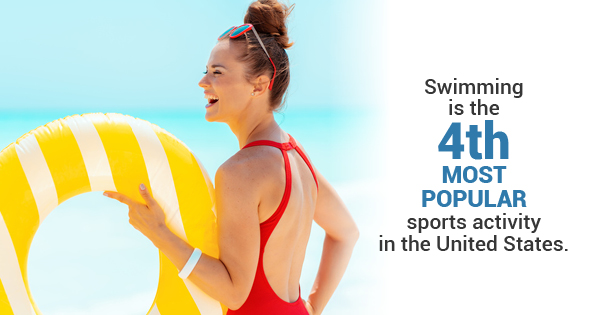 Swimming is the fourth most popular sports activity in the United States, and the off-season is the perfect time to plan ahead and prepare for any improvements you want to make on your outdoor pool and lounge area. While a pool is undoubtedly elegant and comfortable on its own, it's easier than you think to implement some luxurious features that create a relaxing and enjoyable space for you and your guests all season long. Here are just two elements to consider incorporating into your pool or patio area to bring it to the next level of elegance and luxury.
Kitchen
Many of the most luxurious and high-end pool houses are equipped with full kitchens for guest convenience. If this is your plan, you'll have to think carefully about the type of appliances as well as the overall layout of the space. It will also need to be fully stocked with the essentials for spending a hot day at the pool:
"Your luxurious pool house essentials aren't very different from the essentials you need in your main house. First of all, a fully-equipped kitchen is an absolute must, so make sure to get at least one stylish fridge and fill it up with fresh fruits and veggies, bottled water, and wine (obviously). Porcelain dinnerware is also an essential part of any luxurious kitchen, which is why you shouldn't skip it either," writes Ron Wolf on Love Happens Mag.
Screen Enclosure
If you don't feel as though a screen enclosure is necessary, think again. Warm evenings spent at the pool will get you swarmed with mosquitos unless your pool area is properly equipped with a bug screen for patio and pool enclosures. After all, mosquitoes use exhaled carbon dioxide, body odors and temperature, and movement to home in on their victims. Mosquitoes don't quite fit in with the theme of elegance and luxury, so keep them out by investing in the right fiberglass screens and pool enclosure screen material.
According to a U.S. Department of Commerce report, furniture and home furnishings store sales totaled $9.51 billion in June 2017, up from $9.27 billion in June 2016, and it's important to carefully consider your plans before making them final and getting the redesign process started. For more information about buying a bug screen for patio and pool enclosures, contact Super Screen®.